COMPARE MAUI LUAUS
LOCATION • QUALITY • PRICE
What's the difference between each Maui Luau?
All of our Maui luaus are impressive and leave long-lasting valuable memories, though there are quite a few similarities between them including show type, food/drink service, music, VIP seating,  pre-show activities ocean views, and ceremonies.  That being said, we've listed some crucial differences to help you choose the best Maui luau for you and your family.
Location – All Maui luaus are on the south or west side of Maui. You'll want to choose one close to where you're staying.
Price – Maui luaus range from $185-$280/seat before taxes/fees. Most luaus stay around $200 after everything, with the exception of the Andaz, Marriott, and Grand Wailea Luaus.
Styles – Each Maui luau has a special reason to visit.  Ex. The Grand Luau prides itself on having a Maui-style show.  The Andaz Luau does table service and showcases their chef's skills.
What does VIP seating at a Maui Luau consist of?  
VIP seating or Premium seats allow guests to enter a little earlier, some offer upgraded leis, and all give VIPs tables within the first 2 rows of tables next to the stage.
Maui Luau Comparison Chart
Maui luau details change, sometimes seasonally, so keep that in mind.
If you need to ensure specific details please check with the luau before booking.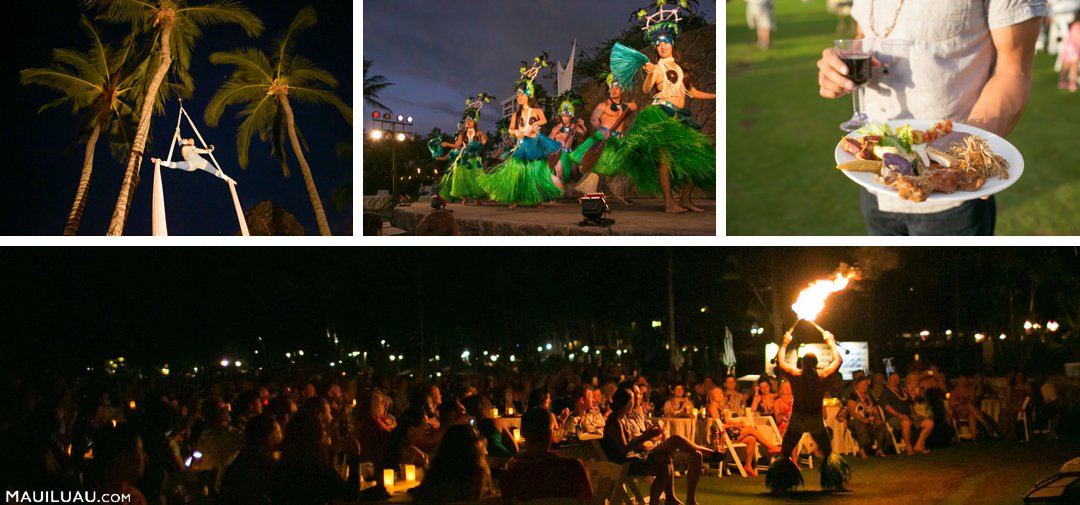 WHAT IS A LUAU?
Exactly what to expect and why you should go!
WHAT TO EAT?
See common dishes served at Maui luaus.
FIRE DANCING
The history and variations of Polynesian fire dancing.