THE ART OF LEI MAKING
MATERIALS • STYLES • ETIQUETTE
Step foot in Hawaii and chances are you'll be taken by the sight of or receipt of a lei. Whether comprised of flowers, feathers, shells, or leaves, the glorious garlands are often synonymous with the islands.
But the beauties are more than mere ornamentals. Steeped in Polynesian history, they were worn by ancient Hawaiians as adornments, yes, but they were also sported for ceremonial purposes and to set people apart. Earlier incarnations of the Hawaiian lei incorporated materials Polynesian settlers came upon or imported—bone, feathers, and shells, for example—while fragrant lei (the ones we cherish today) began to be composed of the plumeria, orchid, and jasmine that made their way to Hawaii.
Having gone mainstream during the steamship era—when droves of tourists were greeted with lei provided by vendors at the Aloha Tower—lei are now given and received at everything from graduations to luaus and weddings. They're also the centerpiece of Lei Day, a statewide celebration that includes lei-making contests, school pageants, and, as expected, the abundant giving, receiving, and wearing of lei.
The structure of a lei may seem simple enough but the art of lei making has a history as intricate as Hawaii itself.
Here's a brief primer on the timeworn craft—and how you can string one together yourself:
Choose your lei materials
Plumeria lei are the most ubiquitous in Hawaii, and it's no wonder: the frangipani thrives throughout the islands, and the shape of the flower renders it a top choice for a needle. But plumeria isn't your only choice. 'Ohia, orchids, hibiscus, white tuberose, kika (cigar flower), and pikake (jasmine) are also excellent selections, particularly if your recipient is female.
Greenery is often used—either on its own or mixed with flowers—with ti leaf and ferns coming in as two of the most popular options, especially for gentlemen. (Do note that the state of Hawaii issues free permits for foraging for lei materials in island forests.)
Interested in crafting a lei that will last? Kukui nuts, feathers, shells, and seeds—such as those from the a'alii shrub—are all winning choices. Likewise, you can use a material that exists outside of nature, including silk flowers, ribbon, candy, yarn, and, for those so inclined, miniature bottles of libations.
Eager to take it a step further? Do know that each of the plants you choose has a unique significance. Maile, for example, is often used at blessings for new businesses and to celebrate graduates, in that the native Hawaiian plant symbolizes life, growth, and prosperity. Hala, meanwhile, represents good luck, but is also considered controversial (politicians have been known to skirt the stage when they see a hala lei) and the ideal flower for a funeral. Each of the islands has its own signature flower as well.
Select your Lei Style
The easiest and most accessible form of lei making is known as kui—a single-strand lei that's widely recognizable and often given at luaus. Other leading forms include haku, wherein flowers and leaves are woven into a three-ply braid, and wili, in which the materials are twisted together, often with raffia.
Get Busy
Single-Strand Lei
For single-strand lei, experienced lei makers use a long needle (typically six to twelve inches) to form a chain, but a smaller needle—such as one from your sewing kit—will do. A double-strand of sewing thread (which offers more robustness) is often used, as well as dental floss and fishing line. Insert the needle into the thickest part of the stem; tuck the next flower behind it, and so on and so forth until the strand is complete. Knot at both ends.
Haku Lei
For a haku lei, which is typically worn around the head (and is generally saved for the most special occasions) can also be worn on the ankle, wrist, or as a hairpiece. Cut flowers to ensure you have a one-inch stem and braid flowers into yarn, ti leaf, or banana leaves; secure them in place.
Wili Lei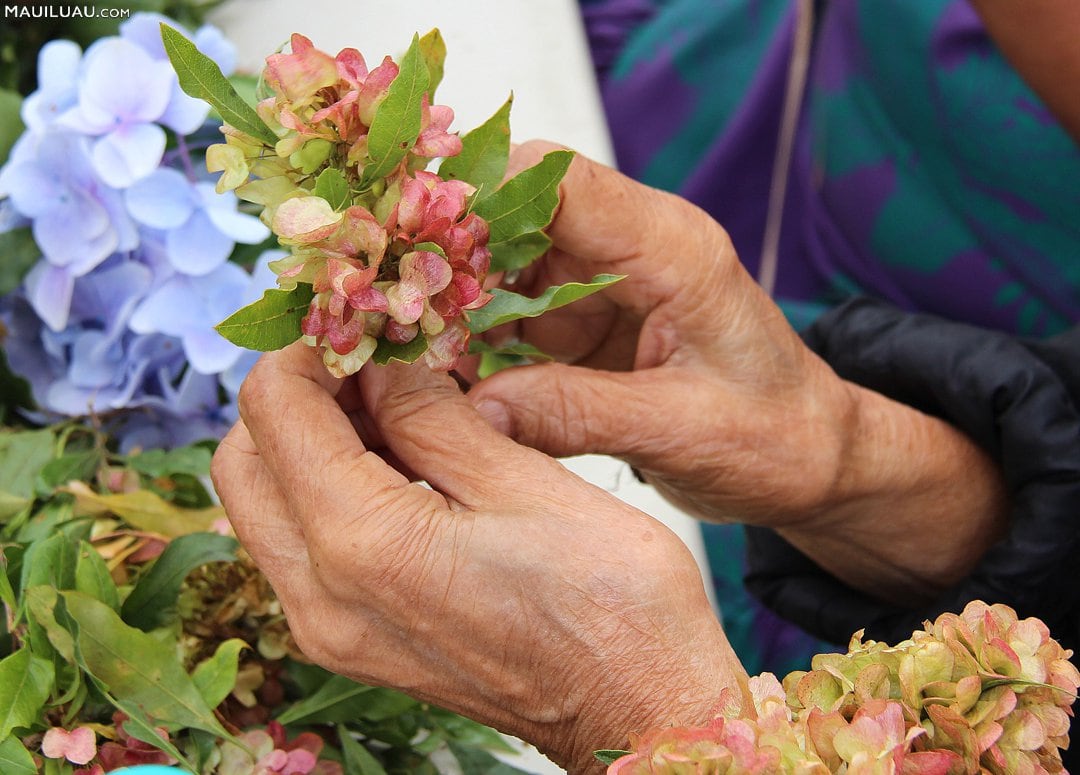 For a wili lei—which is a good start for beginners—wet raffia with water, make a knot at one end, and then braid strands into a five-inch plait, with room (roughly five inches) on each side for tying. Lay flat on a table and weave in flowers with a three-inch stem (which you should be sure to hide). Repeat until you are, as we say in Hawaii, pau.
Practice Lei Etiquette
While lei etiquette runs deeper than most might think, a few common rules of thumb are observed throughout the islands.
First, give a lei by placing it around your recipient's neck. Or, you can bow slightly and hold the lei out for them to take and place around their neck themselves.
A lei should be received in a similar fashion: With grace. To take off a lei in front of the person who has given it to you is considered poor taste (if you must remove it—say, due to allergies—be sure to do so discreetly, and out of view of the giver). Similarly, don't swing your lei around. Lei may appear simple, but a lot of love is typically put into making one. (Should you make one on your own, you'll know this.)
Brides generally wear lei at chest length, where the heart is; lei should also be closed to indicate a circle of love. Grooms, meanwhile, ought to wear open lei—such as maile—to denote welcoming. Giving a lei to a hapai (pregnant) woman? Make sure it's open: An enclosed lei is deemed bad luck.
Likewise, the tradition of tossing one's lei into the ocean is less of a Hawaiian custom than a Western invention and was popularized during the era of luxury liners. Hawaiians don't throw their lei away—they take it to a cemetery, drape it over a painting or photograph, or chair, or return it to the earth as compost. Still intent on flinging yours into the sea? (It is, after all, a romantic idea.) Be sure to remove the flowers from the string before scattering the petals in the ocean, which will help protect marine life and keep our waters pristine.
As for that kiss that's generally given with a lei: Consider it voluntary. The "custom" was introduced to Hawaii by a World War II entertainer. As revered, Big Island lei maker Barbara Meheula told The New York Times, "The kissing is very touristy. The most precious thing to a Hawaiian is breath, the ha. The old-timers will put their cheek next to the person receiving the lei and softly give them the ha, the breath, because everything you have in your heart is in the ha." Including, of course, Hawaii—it's that indelible of a place.

Ka'anapali
Whether you're looking for a family luau or a more romantic Maui luau, West Maui's Kaʻanapali have some of the best!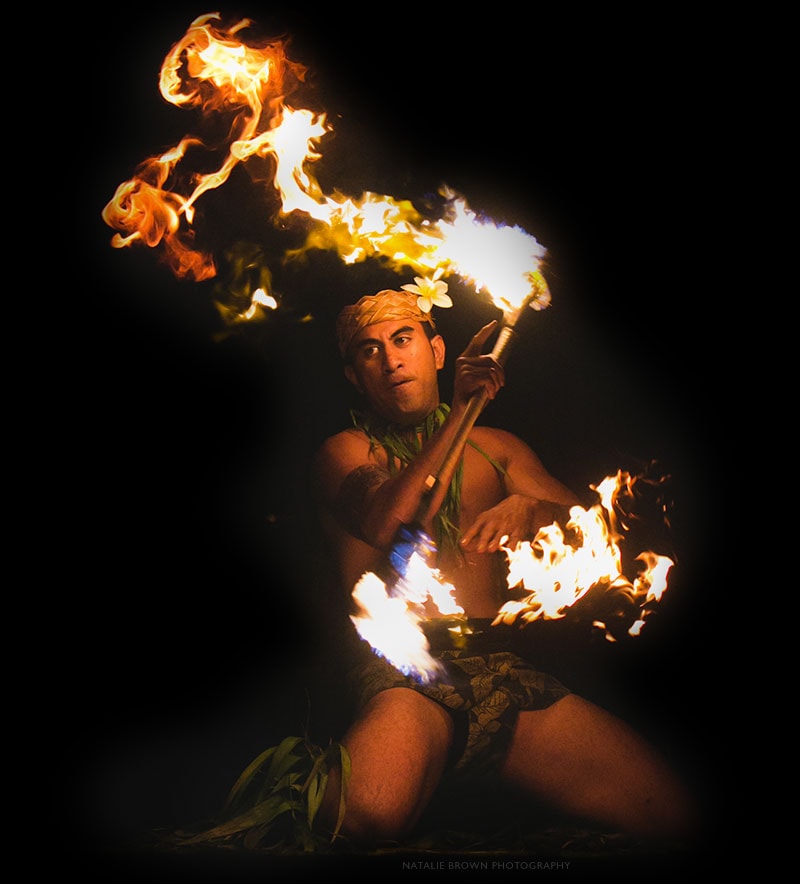 MAUI LUAU COMPARIson CHART
We've been to all the luaus in Maui, and we've put together a list of our favorites along with each characteristic compared side by side to help you choose!
WHAT IS A LUAU?
Exactly what to expect and why you should go!
WHAT TO EAT?
See common dishes served at Maui luaus.
FIRE DANCING
The history and variations of Polynesian fire dancing.