Hawaiian Luau Food
FROM SWEET BREAD TO KALUA PIG
The heart-pounding music, the mesmerizing dances, and the fragrant leis—luaus offer heaps of enchantment. But amidst all the beauty the best ones offer—from Hawaiian chanting to Samoan fire dancing—one can forget the whole point behind the event: The feast itself.
At its heart, luaus are festivals of food. Rooted in ancient Hawaiian custom, their traditional iterations—ʻahaʻaina and paʻina—focused chiefly on eats. So much food, in fact, that one of King Kamehameha III's luaus included 3,125 saltwater fish, 2,245 coconuts, and 4,000 taro plants (and that's just our getting started). Contemporary luaus have maintained this concentration, with most luaus offering buffets that celebrate Hawaii's bounty.
And bounty it is. Traditional Hawaiian fare was mainly limited to the canoe crops trans-Pacific Polynesians brought to the archipelago—items such as breadfruit, sweet potato, limu (seaweed), coconut, and taro—as well as the fish and birds they came upon when they landed. Over time, however, an influx of foreigners—from missionaries to whalers—the influence of the Japanese, Chinese, Korean, Filipino, and Portuguese immigrants who arrived changed the landscape of Hawaiian cuisine; today, it reflects the n Hawaii during the plantation era. Luaus honor this melting pot of cultures with a number of dishes. Here's the lowdown on the grinds you'll find at many: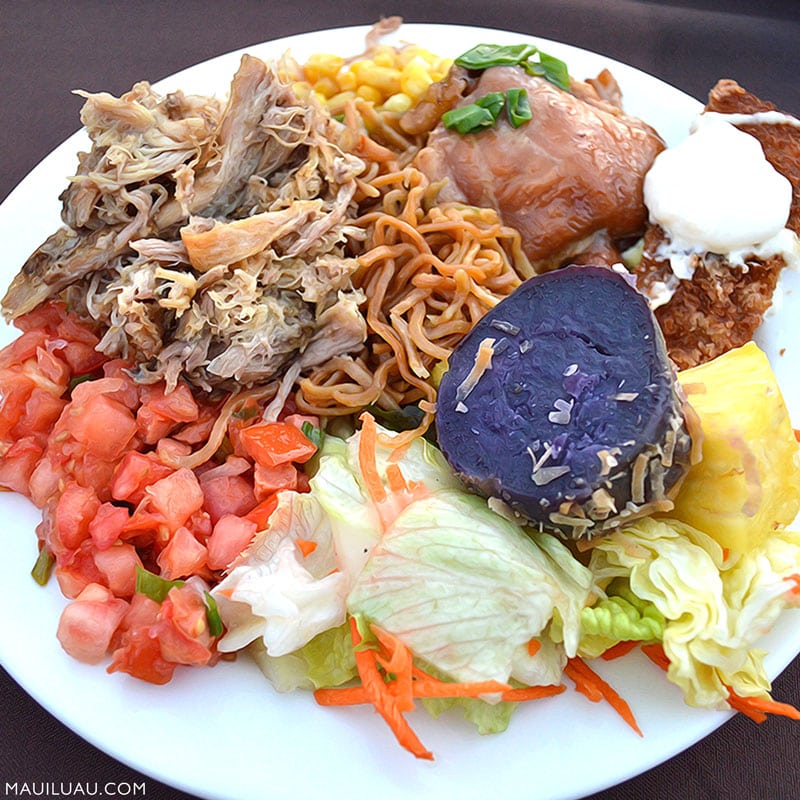 Common Luau Dishes
Chicken Long Rice
Thank the Chinese for introducing this savory dish to the islands in the 19th century. Comprised of chicken, onions, long rice (bean thread), ginger, and garlic, the "soup" tends to be served over white rice—a prevalent part of modern island cuisine and indispensable in a Hawaiian plate lunch. Variations of chicken long rice abound, with some places serving the dish with bamboo shoots and shitake mushrooms.
Huli Huli Chicken
Spot a roadside stand in Hawaii peddling huli huli chicken? It's no wonder: This dish is in demand. Deemed an "only-in-Hawaii food," huli huli chicken launched in 1955, when Ernest Morgado of Pacific Poultry began barbequing the specially-sauced chicken between two grills, which required frequent turning. (Turn is "huli" in Hawaiian.) While Morgado's recipe has been trademarked and filed away, the famous marinade is a winning combination of ketchup, soy sauce, brown sugar, honey, sherry, sesame oil, ginger, garlic, Worchestershire sauce, and Sriracha. The upshot? Sumptuous.
Kalua Pig
"Kalua" refers to the traditional Hawaiian cooking method of roasting proteins in an imu—an underground oven that can be seen at nearly every contemporary luau. Out of the oven—and on your plate—and the shredded pork is tender and salty (and is most often compared to pulled pork). While the centerpiece of luaus, pork was served only on special occasions in ancient Hawaii.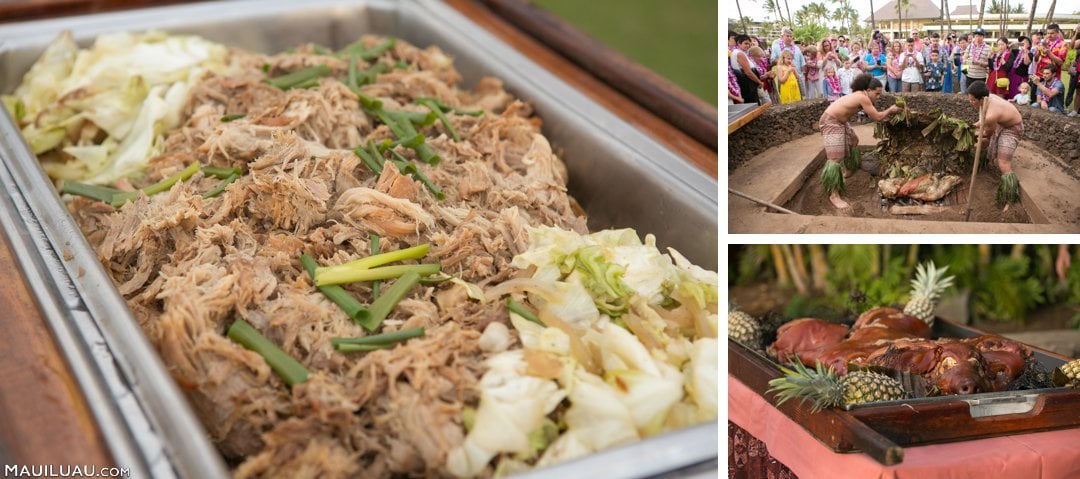 Lomi Lomi Salmon
You may have heard of "lomi lomi" massage, but lomi lomi salmon? Oh yes. Salmon is believed to have been introduced to the islands during the whaling era, when two ships from New England made their way to Hawaii. This particular dish, served cold, is created with salmon fillets mixed—by hand—with Hawaiian sea salt, tomatoes, and onion (which was brought to the islands by Captain Cook in 1778). The result? Refreshing, salty (you'll note a theme here), and scrumptious.
Laulau
A veritable native Hawaiian dish, laulau (also spelled lau lau) calls upon ti leaves and "luau" leaves (taro). Traditionally, these greens were used to wrap fish and pork for laulau; today, chicken is also used. Once tied, the stuffed leaves are salted and steamed (customarily in an imu). To eat, slice and get to the filling inside—the leaves are inedible.
Macaroni Salad
While hardly traditional, macaroni salad is also fundamental to the Hawaiian plate lunch and a popular side dish at luaus. (Or, as author Arnold Hiura writes in Kau Kau: Cuisine and Culture in the Hawaiian Islands, mac salad is "king" in Hawaii.) It's exactly as it sounds, comprised of elbow macaroni, mayonnaise (and plenty of it), and add-ins such as pickle relish, celery, and carrots. It pairs brilliantly with the salty, tangy dishes otherwise presented at luaus.
Molokai Sweet Potatoes
While not as vital to ancient Hawaiians as kalo, sweet potatoes encompassed a large part of early Polynesians' diets. How the tuber, called 'uala, made it to the Pacific—it originally hails from South America—is unclear to historians, but its importance to native Hawaiians is inarguable. It flourishes in arid conditions and was planted during times of famine. Its leaves were used to cushion lauhala mats; its milky sap was relied upon to treat everything from asthma to insomnia. Today, Molokai Sweet Potatoes are an oft-seen side dish at many luaus, either baked, roasted, or used in baked goods. (They also soared to popularity thanks to celebrity chefs like Emeril Lagasse and Sam Choy.) Their purple flesh is unforgettable; the same could be said of their taste.
Pipikaula
George Vancouver introduced Hawaiians to cattle in 1793; from there, a number of beef-focused dishes were spawned. One of them is pipikaula, which translates to "beef rope." Unsurprisingly, it resembles beef jerky, only without the rough texture: The teriyaki-flavored morsels are sometimes served still on the bone, which helps maintain its juiciness.
Poi
Poi was the cornerstone of ancient Hawaiian meals, if not the meal itself; as Honolulu reports, "Old pictures of Hawaiian meals often show poi bowls big enough to wash a baby in." Created by mashing kalo, it arrives in a grayish paste and is deemed by many non-Hawaiians an acquired taste. Our advice? Swirl your fork in it before grabbing a bite of kalua pig. The combination is unique—and, for some, heavenly.
Poke
Waltz into any supermarket in Hawaii and you're bound to find at least a customer or two (if not an outright line) waiting for poke. Rhyming with okay, poke means to "cut crosswise into pieces," referring to the way ancient Hawaiians would slice fresh, raw fish and eat it with sea salt, seaweed, and crushed kukui nuts. Generally prepared with ahi (tuna), Japanese and Chinese influences altered the dish to include soy sauce, sesame oil, kimchee, and wasabi, among other enhancements.
Shoyu Chicken
Another island favorite—beyond the luau, too—shoyu chicken is another star of the Hawaiian plate lunch and a luau darling. Thank Japanese immigrants as well, whose introduction of shoyu (soy sauce) turned chicken thighs into something splendid. This fork-tender entrée is the perfect mix of salty and sweet.
Squid Luau
Another authentic Hawaiian dish, squid luau may remind you of creamed spinach, given its color and texture. It calls upon fresh luau leaves, which are simmered with squid or tako (octopus), coconut milk, and Hawaiian sea salt. Present-day iterations also call for garlic and a spoonful of sugar.
Sweet Bread Rolls
Come for the singing, stay for the sweet bread: For many, the delectable rolls served at luaus go down as one of the unexpected highlights of the night. While rolls differ from luau to luau, many are inspired by Portuguese plantation workers, who, along with spicy sausage and bean soup, brought "Pao Doce" to the islands in the 19th century. Made with straightforward ingredients—flour, sugar, yeast, eggs, butter, and occasionally lemon peel—the effect is soft, fluffy, slightly sweet gems. (Other recipes for sweet bread call for pineapple juice and cinnamon; others still are served with macadamia nut butter.) The history of the bread couldn't be more fitting: It was served by Portuguese on special occasions. And what could be more celebratory than a Hawaiian luau?

Kulolo
Another dessert staple at a variety of luaus, kulolo is made of mashed kalo (taro, a root vegetable), sugar, and coconut milk. Frequently compared to the Japanese dessert mochi, the traditional recipe called for the freshest ingredients—just-picked kalo, raw sugar, and newly-cracked coconut meat and milk—before it was wrapped in ti leaves and baked in an imu. Current kulolo may taste less fresh but it's nonetheless ono.
Haupia
Comprised of sugar and coconut milk, the mildly-sweet custard bears the texture of Jello, pudding—and all the nutty flavor of one of Hawaii's most beloved fruits. Traditionally prepared with pia (Polynesian arrowroot), modern recipes call for cornstarch. Modern eaters, meanwhile, call it fabulous.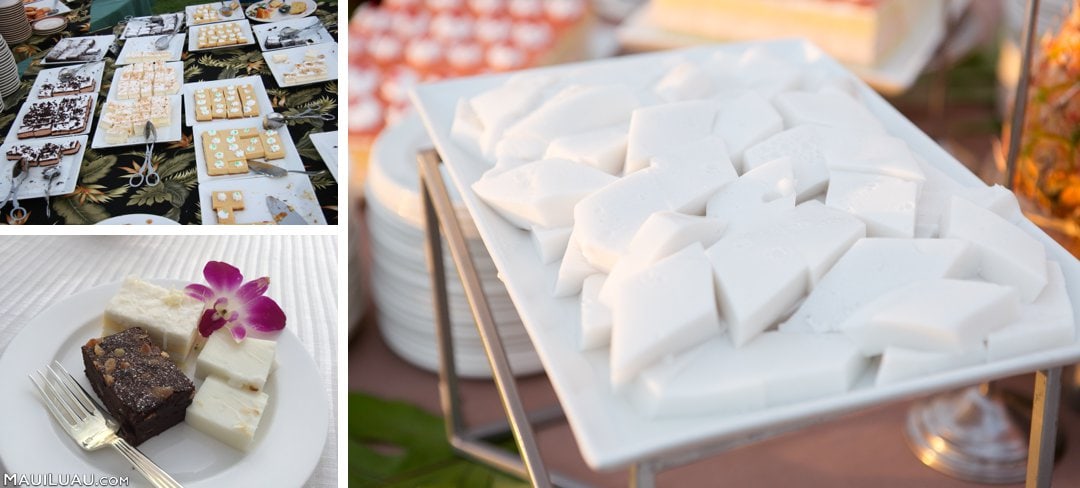 Ka'anapali
Whether you're looking for a family luau or a more romantic Maui luau, West Maui's Kaʻanapali have some of the best!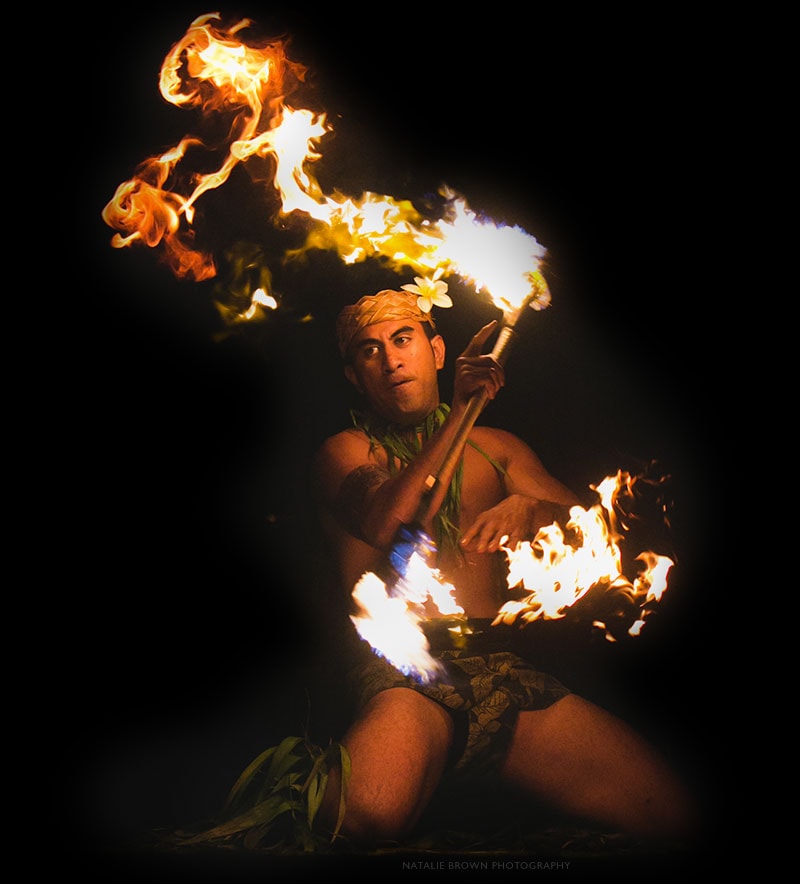 MAUI LUAU COMPARIson CHART
We've been to all the luaus in Maui, and we've put together a list of our favorites along with each characteristic compared side by side to help you choose!
WHAT IS A LUAU?
Exactly what to expect and why you should go!
WHAT TO EAT?
See common dishes served at Maui luaus.
FIRE DANCING
The history and variations of Polynesian fire dancing.