LUAU HISTORY
ORIGINS • TRADITIONS• CELEBRATION
While modern Hawaiian luaus are held daily throughout the islands as a way to bring both visitors and residents together in a celebratory feast under the stars, featuring common entertainment like live music, hula dancing, lei making, Samoan fire knife dancing, imu ceremonies, storytelling, a buffet dinner and a flowing assortment of tropical cocktails, the Hawaiian luaus of the past -while also a grand affair – were generally much different in terms of overall purpose and style.
Below we share the origins of the luau as well as how locals and visitors today enjoy luaus.
The History of the Hawaiian Luau: A Look Back
A tradition dating back hundreds of years, ancient Hawaiian luaus were referred to as an ʻahaʻaina: aha translating to 'gathering' and aina meaning 'meal.' Generally a more formal event than your commonplace luau, these ancient gatherings were mostly focused on the traditions and ceremonies of the event rather than the entertainment level. In fact, these Polynesian feasts were often held not only to celebrate a commendable occasion like the launch of a new canoe, a battle victory, or a special achievement but to honor the Hawaiian Gods. Certain foods at these feasts were even prepared as a way to represent certain symbols and attributes.
Traditionally, women and those of a lower class in society were forbidden to dine with men and were not allowed to consume certain foods served at the feasts – usually bananas, pork, and certain kinds of reef fish, such as moi. While they were allowed to eat popular dishes like poi, sweet potatoes, and other types of fish, it wasn't until 1819, when King Kamehameha II invited women to eat with the group, that the practice evolved and became known as a 'luau,' named for a traditional local dish made of taro leaves and chicken baked in coconut milk. That same year, ironically enough, hula dancing was banned by Queen Kaʻahumanu, as it was seen as too taboo of an activity.
While a pu, or conch shell, was often utilized to announce the arrival of ships, as well as the beginning of the ceremony and as an accompaniment to traditional Hawaiian chants in ancient luaus, the act is still commonly used today to signify the start of a modern luau. Details of this ancient tradition include sitting on mats made of ti leaves, hala, or pandanus trees – called lauhala – as well as eating with the hands, and showcasing grand centerpieces made of ferns, flowers, and palm leaves for hundreds or even thousands of guests.
One of the most legendary ancient luaus includes King Kamehameha III's 1847 event, during which his order of more than 4,000 taro plants, 271 pigs, 482 gourds of poi, 2,245 coconuts, and 5,000 fish were consumed by attendees in an opulent celebratory feast. Similarly, the 'Merry Monarch' himself – King Kalakaua – hosted more than 1,500 guests for his 50th birthday luau celebration in 1883, with guests fed in three separate stints.
Reasons to Celebrate
In the past, luaus were commonly held in celebration of a child's first birthday – aptly called a 'baby luau' – where they were officially named once the parents had ample time to think of a name that correctly encapsulated their spirit and personality. Other examples of current luau celebrations include Sweet 16 parties, graduations from high school or college, and weddings. Leis are often given on arrival as a display of affection, and the majority of luaus end with the ailao, a traditional Samoan pre-war ritual involving knife spinning and fire dancing.
Today, visitors of all ages can join in on the fun by attending one of the many amazing luaus found on Maui, Oahu, Kauai and the Big Island, and experience a modern take on this ancient Polynesian tradition for themselves. While not every luau includes hula dancing or fire spinning, almost all include traditional foods like kalua pork, poi, laulau, lomilomi salmon and haupia, as well as stories of Hawaii and the history of the Polynesian islands.
Mahalo for reading, and we're wishing all of you lots of present and future luau celebrations. Aloha!

Ka'anapali
Whether you're looking for a family luau or a more romantic Maui luau, West Maui's Kaʻanapali have some of the best!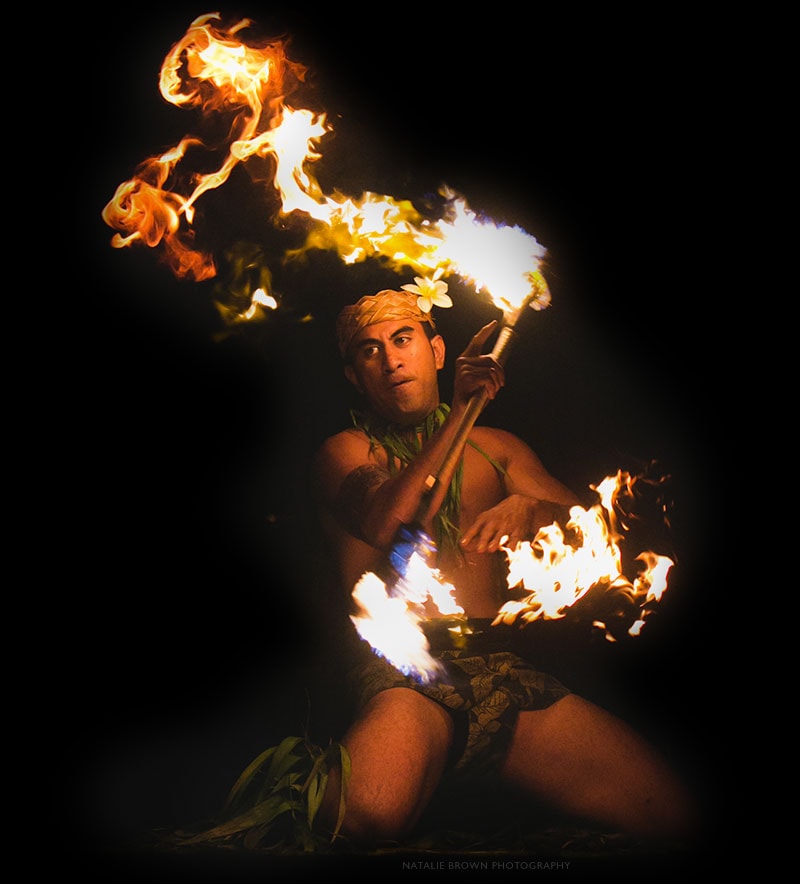 MAUI LUAU COMPARIson CHART
We've been to all the luaus in Maui, and we've put together a list of our favorites along with each characteristic compared side by side to help you choose!
WHAT IS A LUAU?
Exactly what to expect and why you should go!
WHAT TO EAT?
See common dishes served at Maui luaus.
FIRE DANCING
The history and variations of Polynesian fire dancing.