Wailea Luaus
Our Favorite South Maui Luaus
When narrowing down which Maui luaus are best for you and your travel party, whether you're heading to Maui for your honeymoon, a self-discovery solo getaway, girls reunion trip, or an annual tropical retreat with the whole family, it is often difficult to decide which luau is most appealing among a sea of offerings with seemingly similar food, entertainment and pricing options.
First, you should know that the majority of luaus on The Valley Isle are located in Wailea, Lahaina, and Kaʻanapali, with Wailea being the best option for those staying anywhere in central or south Maui. Located conveniently between the popular coastal towns of Kihei and Makena, Wailea is primarily known for its assortment of luxury resorts, golf courses, high-end shops, restaurant offerings, top-notch spas, world-class beaches, and water sports. Today, we're here to break down the best Wailea luaus to narrow down your search and provide detailed information to help you make an informed decision about one of the island's most popular pastimes: attending a luau.
ʻAhaʻaina Luau
Located at the oh-so-stunning and expansive Grand Wailea Resort, The Grand Wailea Luau or ʻAhaʻaina Wailea Luau (formerly at Honua'ula) invites guests on a journey through ancient Hawaii with tales of the seafaring Polynesians who discovered the Hawaiian Islands, as well as some of the most illustrious local Gods, Goddesses, myths and legends.
Learn more about Laʻamaikahiki and Moikeha's documented voyages to Honua'ula, as well as Pele, the notorious Goddess of Fire and Volcanoes, and Lilinoe, Goddess of the mist. Other storytelling aspects include the legends of the Maui mermaid, Kananaka, and the Goddess of the Clouds, Naulu.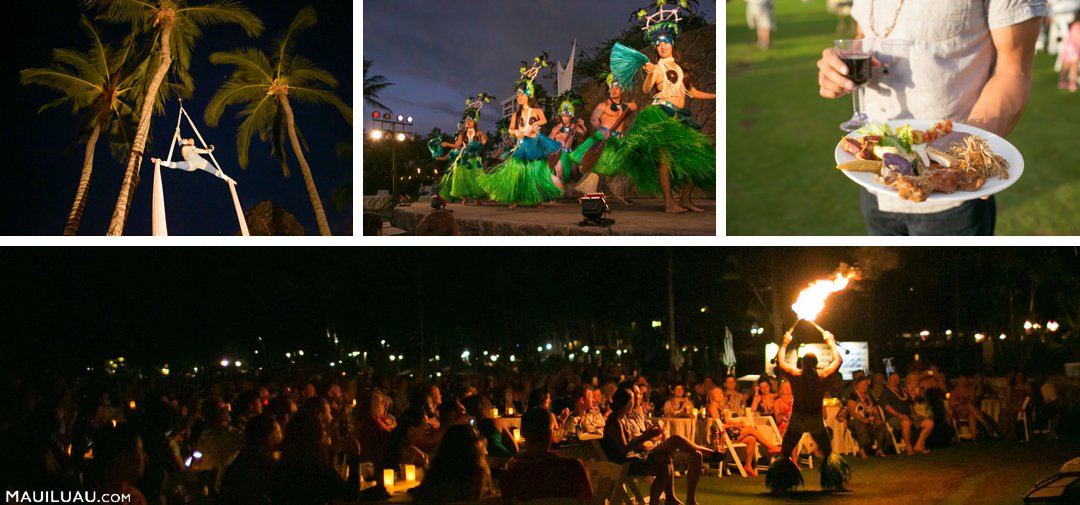 Arrive early for pre-show luau highlights like a lei greeting and commemorative photos with members of the cast. Once the bar opens, patrons are encouraged to grab their seats and enjoy the torch lighting and traditional Hawaiian imu ceremony, followed by a three-course meal with menu items like surf and turf poke, lomi lomi salmon, green papaya salad, mac salad, Maui cattle sirloin, coconut and lime mahi mahi, shoyu chicken, kalua pig, Maui chow fun, stir-fried vegetables, and desserts like traditional Hawaiian haupia, coconut cake, and guava mousse. Choose from an assortment of drink options throughout the evening's open bar, including house cocktails, domestic beer, wine, blended cocktails, and soft drinks.
Other special features of the ʻAhaʻaina Luau include complimentary valet parking, fire dancing, open seating at check-in, Polynesian crafts, and Premium or UItra Premium ticketing options. Sit back and enjoy the unparalleled sunset and panoramic ocean views, and learn more about Maui's iconic culture, history and legends under the stars during this fun, family-friendly luau held weekly on select days.
Te Au Moana Luau
Another popular south Maui option, the Te Au Moana Luau also known as the Wailea Marriott Luau, conveniently positioned between the beautiful Wailea and Ulua Beaches. Translating to 'the ocean tide' in Hawaiian, Te Au Moana offers lucky guests the chance to discover the islands, culture and stories of the Polynesians who traveled the Pacific to reach Hawaii.
One of many impressive shows put on by the locally-loved Tihati Productions, the Te Au Moana Luau features ancestral storytelling, lively dance and musical performances, and traditional skill demonstrations such as fishing, gathering, gift-giving, tapa making, flower crafting, kapa, and bookmark making that have connected Polynesian settlers to the elements of the earth for centuries.
Guests will be treated to a fresh flower lei or carved wooden fish hook necklace greeting, and be able to witness the Hawaiian underground oven cooking during the traditional imu ceremony. Three courses will be served and menu items include standard local fare such as poi, lomi lomi salad, tossed Kula greens, teriyaki steaks, seafood pasta, pineapple coleslaw and stir-fried vegetables, and dessert items like coconut macaroons, brownies, key lime squares, carrot cake, and chocolate chip cookies. Guests may choose from open bar items like blended tropical drinks, beer, and wine.
This luau is held every Monday, (occasional Tuesdays), Thursday, Friday, and Saturday, and features additional perks such as fire dancing, round table seating, and table service for drinks. Grounds open at 4:30 pm, or 5 pm from June 4th to September 2nd.
Feast At Mokapu Luau
Held on an oceanfront lawn at the ultra sleek Andaz Maui Resort, guests of this relatively new Maui luau offering will be treated to pristine views of Wailea's Mokapu Beach and sunset for a delightful new take on a traditional luau. Learn more about the Andaz Luau.
Choose from premium or classic seating options, and enjoy the added perk of table service, quality craft cocktails, and ohana-style dining with three delicious courses. Learn about the history and culture of Hawaii's Polynesian ancestors, and entertaining activities like storytelling, an imu ceremony, flower crafting, kapa printmaking, hula dancing, and a fire knife dancing finale. Another show put on by Tihati Productions, this classic production entails plenty of impressive production value with top-notch local dancers, musicians, and artists.
Executive Chef Isaac Bancaco elevates the menu offerings at this intimate luau experience with dishes inspired by Hawaii's local ingredients, including grilled 'ulu salad, Hamakua mushroom salad, black pepper Kauai prawns, pulehu ribeye, kalua pig, edamame fried rice, fresh fish, Molokai sweet potatoes, poi, cured beef and ahi poke. Dessert items like Molokai sweet potato cheesecake, flourless chocolate cake, and haupia tarts are the icing on the cake, and the open bar includes handcrafted cocktails, wine, and self-serve Maui Brewing Co. beers.
For those looking for a romantic, uncrowded, and gorgeous evening spent under the swaying palms of south Maui, the Andaz's Feast at Mokapu has it all. Held on Sundays, Thursdays, and the occasional Tuesday only, highlights include a unique shell lei, prime photo opportunities, complimentary valet parking, and attentive table service. Grounds open at 5:30 pm, and 5 pm for those with premium seating.
We hope this helped you narrow down your options when choosing the best Wailea luau for your upcoming trip to Maui, and we wish you all a lovely, unforgettable and classic night of entertainment on The Valley Isle. A hui hou.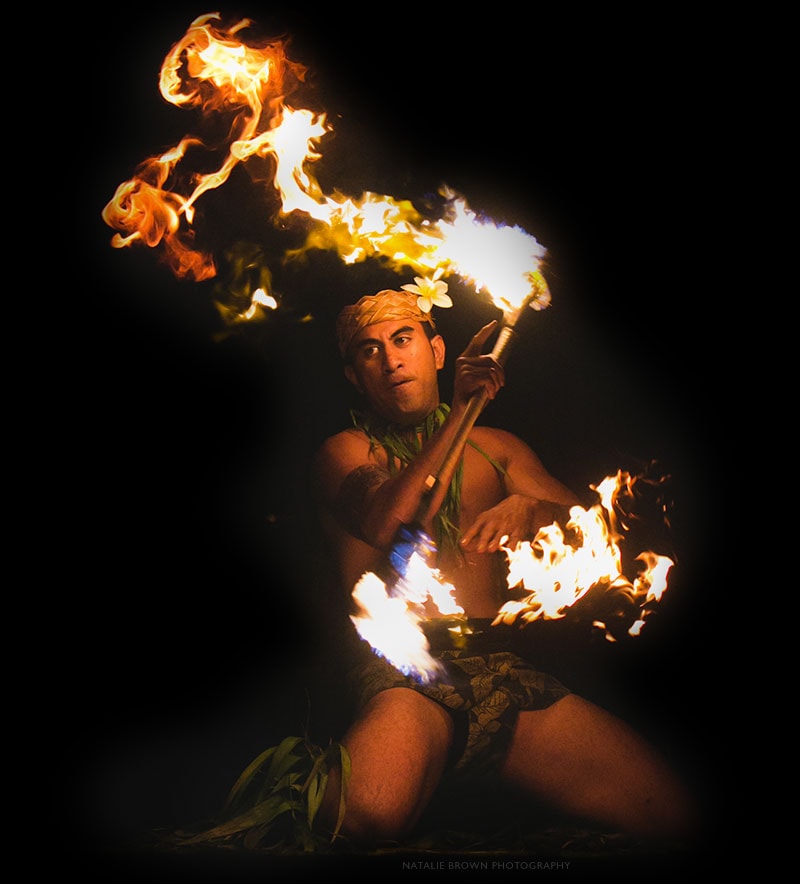 MAUI LUAU COMPARIson CHART
We've been to all the luaus in Maui, and we've put together a list of our favorites along with each characteristic compared side by side to help you choose!
WHAT IS A LUAU?
Exactly what to expect and why you should go!
WHAT TO EAT?
See common dishes served at Maui luaus.
FIRE DANCING
The history and variations of Polynesian fire dancing.