Polynesian Fire Dancing
HISTORY • STYLES • ORIGINS
All About Polynesian Fire Dancing
Polynesian fire dancing is one of the most thrilling parts of a luau: The lights go down. The drums begin to intensify. Suddenly, the stage erupts in fire as performers dance wildly with blazing props.
Most Maui luaus feature some form of fire dancing, whether it be the heart-stopping Samoan fire-knife dance or a fiery poi ball performance. But while the audience oohs and ahhs, some may wonder, where did these unique dances originate? What purpose did they serve?
Let's take a deep dive into the origins and different styles of fire dancing from across the Pacific. Here is everything you need to know about Polynesian fire dancing.
History
There's a common misconception that Polynesian fire dancing is an ancient art form. But really, the fire dancing you see at most Maui luaus originated in the early 20th century.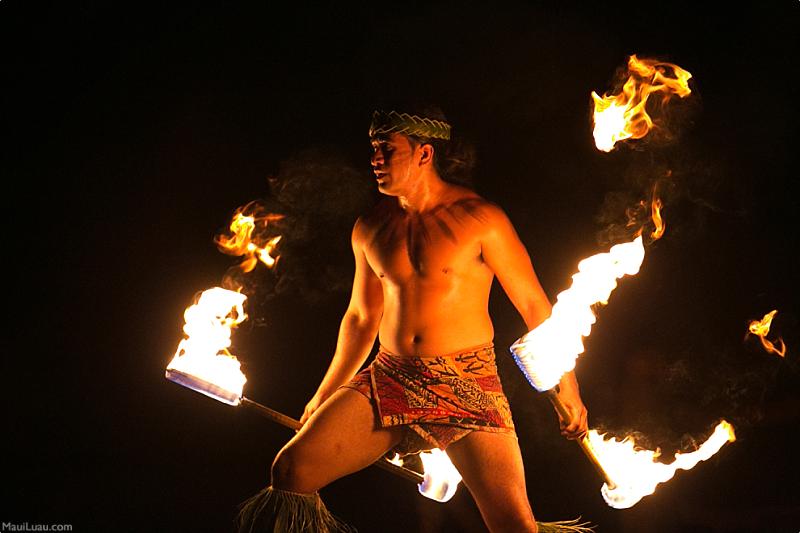 Uluao (Freddie) Letuli, a Samoan-American knife dancer, is thought to be the first person to incorporate fire into the traditional Samoan knife dance. Letuli was inspired to add fire to his routine after watching a Hindu performer rehearse a fire-eating act during the 1946 Shriner's Convention in San Francisco. Letuli went on to travel around the world with his Samoan fire knife dancing troupe, performing in various Polynesian shows. When he wasn't performing, Letuli taught his skills to up-and-coming fire knife dancers. Letuli passed away in 2004, but he remains known as the father of Samoan fire knife dancing.
While fire dancing doesn't have ancient roots in the Pacific, many dances that feature fire today are deeply embedded in Polynesian culture.
Different Types of Fire Dancing And Their Polynesian Origin
The most common types of fire dances you'll see at a Maui luau are Samoan fire knife dances and fire poi dances.
Samoan Fire Knife Dance
The fire knife dance of today spawns from the ancient Samoan practice of ailao. During ceremonial proceedings, Samoan warriors would twist, spin, and toss their war clubs to display skill and strength. The club later evolved into a machete wrapped in cloth on both ends— the tool commonly used during modern fire knife dances.
Today the Samoan fire knife dance is the most widely known Polynesian fire dance. Many luaus highlighting Polynesian culture feature the Samoan fire knife dance.
Although fire knife dancing is relatively new to Samoan culture, Samoans practice it with pride. The dance is just one piece of what makes Samoan culture so dynamic. There is even a fire knife world championship, held annually at the Polynesian Cultural Center on Oahu. Logo Apelu, Chief Operating Officer of the Polynesian Cultural Center, once told Samoa News, "[Fire knife dancing] combines skill, strength, artistry, and fearlessness."
Fire Poi Dance
Fire poi ball dances aren't as common as the ubiquitous Samoan fire knife dance, but they are still featured at select luaus across Hawaii. Poi dancing is a product of Maori culture, although traditionally, no fire was involved. It is unclear when, why, or who introduced the element of fire into poi dancing. However, some say fire poi dancing originated in Hawaii in the 1950s to further entertain and excite tourists at luaus. Perhaps whoever started fire poi dancing was inspired by Freddie Letuli!
In poi dancing, a ball or weight is tethered to a cord, and the dancer swings the ball in rhythmical patterns. In ancient Maori culture, poi balls were used to increase strength, flexibility, and coordination and were sometimes used as weapons in battle.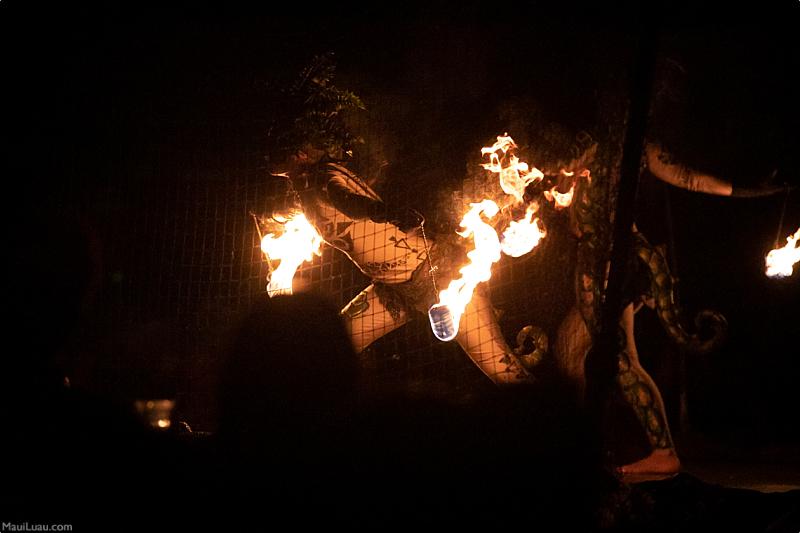 Regardless of who, when, where, or why fire made its way into Polynesian dancing, fire dancing has become synonymous with Hawaiian luaus and remains one of the most thrilling parts of any Polynesian revue. On Maui, visitors can admire the blazing spectacle at luaus across the island, from Wailea to Kaanapali. (Check out our Maui luau comparison page to see which Maui luau feature fire dancing.)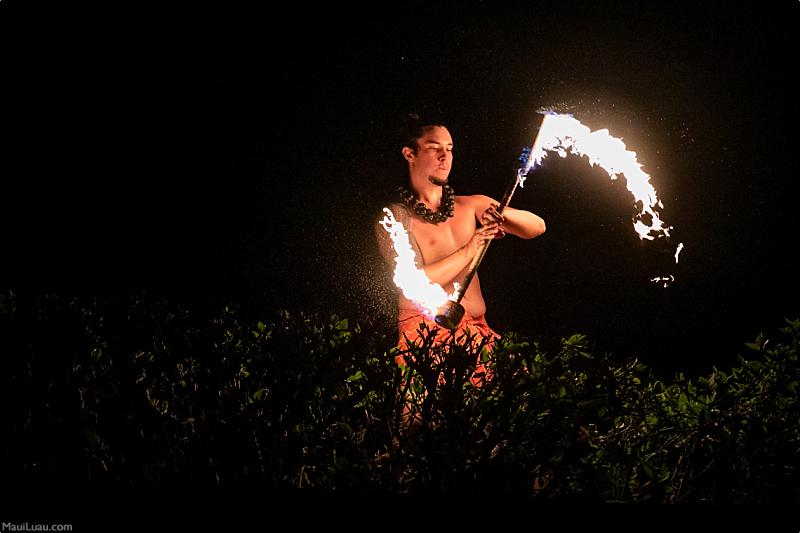 Ka'anapali
Whether you're looking for a family luau or a more romantic Maui luau, West Maui's Kaʻanapali have some of the best!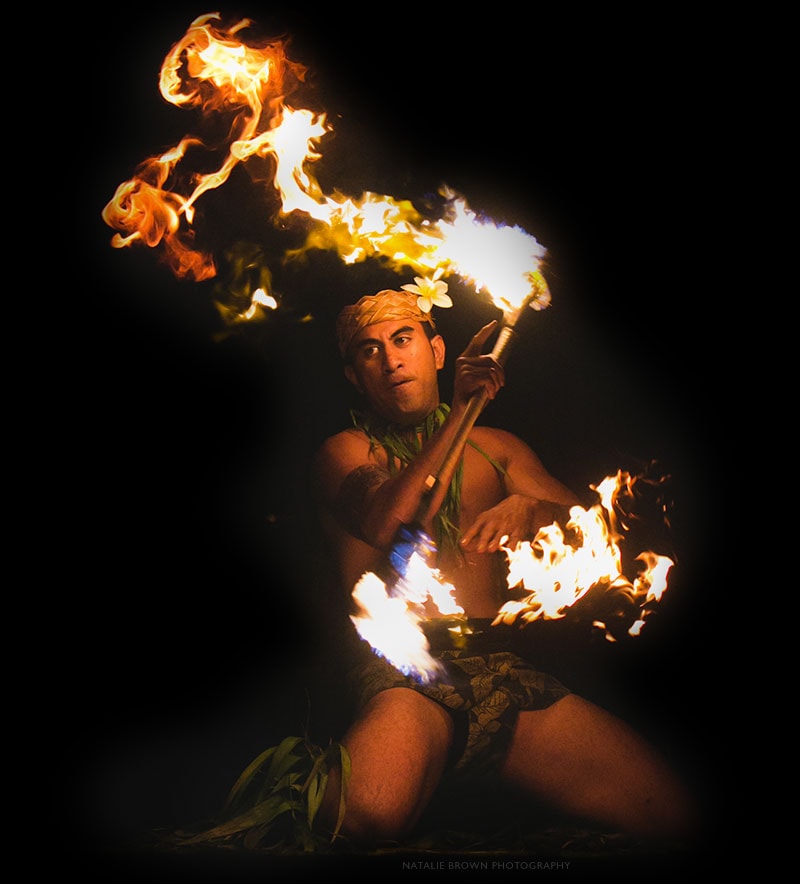 MAUI LUAU COMPARIson CHART
We've been to all the luaus in Maui, and we've put together a list of our favorites along with each characteristic compared side by side to help you choose!
WHAT IS A LUAU?
Exactly what to expect and why you should go!
WHAT TO EAT?
See common dishes served at Maui luaus.
FIRE DANCING
The history and variations of Polynesian fire dancing.