WHAT IS A LUAU?
LEGACY • CUISINE • DANCE • ETIQUETTE
In 1946, a cadre of celebrities got together at Don "Beach-Comber's" Encino plantation for movie star and model Anita Colby's 32nd birthday party. According to Life, these guests entered a "tropical dream world"—they lolled about the banana trees, palms, and night-blooming jasmine in sarongs and pareos, ate suckling pig and coconut-stuffed salmon while sitting cross-legged on the floor, drank boozy libations out of hollowed pineapples, and soaked up the South Seas vibe all around them.
Sound familiar?
To those new to Hawaiian culture, this tends to be the prevailing belief of what a luau is all about. (No fault there, either: Luaus designed in the vein of "Beach-Comber's" are tremendously entertaining.) But while the modern luau features some of these trappings, luaus have profound meaning to the Hawaiian culture.
Here's the lowdown on the history of the luau, what modern takes entail, and why you should book one on your next Hawaiian holiday.
The Legacy of the Luau
Photographs of Hawaiian monarchy typically include the great matriarchs that influenced the islands, from Queen Liliuokalani to Princess Ka'iulani. But prior to King Kamehameha II's reign, women in Hawaii were less prominent. Kapu—a system of rules and prohibitions—disallowed women from eating with men (the same held true for commoners and royalty). Similar restrictions were placed upon the types of foods women and commoners could eat—pork, the reef fish moi, and bananas were forbidden—creating, in the end, a great division among society.
But in 1819, King Kamehameha II went down in history for lifting the ban. The coming-together of genders and classes redefined the "aha'aina"—what we know today as a luau. ("Aha" refers to a gathering, and "aina" a meal or the land; smaller luaus were referred to as pa'ina.) These feasts took on a grand, celebratory feel, with lauhala mats spread on the ground, tables festooned with flora, and plenty of ono fare. Meanwhile, hula dancing, singing, chanting, and socializing ensued.
In the decades that followed, luaus were called upon to commemorate everything from the launching of a canoe to a baby's first birthday. They were also put on as a way to communicate with the other realm. During the meal, ancestral gods were evoked and offered a share of the food, the spiritual essence of which is referred to as aka. In 1847, King Kamehameha III held what's believed to be one of the largest luaus in history—a soiree complete with 482 gourds filled with poi, 3,125 saltwater fish, 1,820 freshwater fish, 2,245 coconuts, 271 pigs, and four thousand taro plants.
(King Kalakaua—who was lovingly referred to as the Merry Monarch and who repealed the embargo on hula set forth by missionaries—was known for his lavish luaus as well: His 50th birthday luau had no less than 1,500 guests, who were fed in three shifts.) The traditional repast was elaborated upon in the 1960s, when tourism hit Hawaii and these gatherings became a more inclusive and social affair.
Today, luaus are a staple of Hawaii for both kama'aina and visitors, with events ranging from backyard graduation luaus to extravagant occasions presented by the islands' most glamorous resorts. Likewise, luaus range from those that call to mind Elvis's Blue Hawaii (think: contemporary, with an energetic party feel) to the genuinely authentic (Old Lahaina Luau, for one, presents a reverent evening that's marked by historical accuracy).
It is the taro plant that took center stage at King Kamehameha III's fete that gave the aha'aina or pa'ina its contemporary name. "Luau" refers to a special dish consisting of taro, coconut milk, and chicken or octopus. As Hawai'i Magazine reports, "Luau, the name of the taro leaves used in some dishes, was a term misconstrued to mean 'feast' back in the 19th century by newspaper reporters of the time, and it stuck."
Misnomer aside, taro is not all you can expect to find at one of the many luaus presented around the Hawaiian Islands. Read on.
Luau Cuisine
A luau—then and now—chiefly focuses on food. While some modern luaus, such as the Feast at Mokapu on Maui, serve plated meals, most rely on buffets or an 'ohana (family)-style sharing of dishes. At nearly every luau, you can expect to find a mix of foods from ancient Hawaii and foods brought to the islands by immigrants from Europe and Asia. These include:
Poi:
While taro is not the only food presented at a luau (of course), it does play a mighty role. Called kalo in Hawaiian, the tuber, slightly sweeter than a potato, is considered a "canoe crop:" Foods, such as coconut and breadfruit, that were brought aboard the vessels ancient Polynesians took to Hawaii. Taro was a mainstay of the Hawaiian diet and was most often used to create poi—ground taro that manifests as a starchy paste and is eaten with most meals.
Laulau:
Prepared in an imu—or underground oven warmed with hot coals—laulau is comprised of protein (chicken, fish, pork) and wrapped in leaves (taro, luau, and ti), resulting in a tender, salty dish that's beloved by locals.
Lomi Salmon:
With its roots tracing back to the influx of whalers and merchants in the early 1800s, lomi salmon is comprised of chilled salmon, diced tomatoes, green onions, and white onions.
Kalua Pig:
This salty, smoky pork is generally prepared in an imu before being shredded. Our advice? Dip it in your poi!
Poke:
Defined as "to cut or slice" in Hawaiian, poke is raw, cubed fish, typically ahi, that's marinated in soy sauce, sesame oil, and spices.
Chicken Long Rice:
Influenced by the Chinese contract laborers that came to Hawaii in 1852, chicken long rice is slivered chicken in broth with vermicelli noodles. In short, mild and comforting.
Haupia:
This coconut pudding—which has the consistency of jello—is the perfect way to end your luau feast. (Some luaus may also feature standard desserts such as brownies and cookies, or kulolo—a pudding loaf made of grated taro, sugar, and coconut milk.)
Luau guests can expect to also find salad, fresh fruit, and, at select luaus, keiki buffets complete with kid faves such as macaroni and cheese and chicken nuggets. Luaus feature beer, wine, and cocktails, from the standard mai tai to Old Lahaina Luau's uala lager (a beer made with sweet potatoes by Maui Brewing Co.) to The Feast at Mokapu's personally-tailored libations, which are crafted with fresh-pressed juices and syrups made in-house daily.
Polynesian Dancing
At a tie with the dishes featured at luaus? The entertainment! Polynesian dancing is the whole pulse of a luau—and for good cause: It's an enormous part of the Polynesian culture, called upon to tell stories both mythical and factual.
Hula mainly defines this. Some luaus feature hula kahiko—the ancient style of hula, characterized by slow, graceful movements, primarily through one's hands. Others boast hula auana, the modern form of hula, which moves at a quicker pace and is accompanied by ukulele music and contemporary melodies. Others still feature Tahitian ori (ori being Tahitian for dance)—a fast, high-energy mix to beats on a toere (a Tahitian log drum). Several, including "Drums of the Pacific" at the Hyatt Regency Maui Resort & Spa, present an otea, a traditional Tahitian dance distinguished by its percussion-led, hip-shaking (and mesmerizing) actions. Luaus that incorporate all or most of Polynesia may also feature the haka, a traditional dance, unique to the Maori culture of New Zealand, that was popularized by Aotearoa's national rugby team, the All-Blacks, and the Samoan Sasa, which enlists a number of dancers.
The grand finale at many luaus is the siva afi, or Samoan fire dance. This spectacular performance dates back to ancient Samoa when warriors would exhibit their strength with a war club, normally at ceremonial processions. The war club evolved into metal with serrated edges to a machete wrapped in towels with its blade exposed; it wasn't until 1946 that Samoan-American Freddie Letuli, who once toured the world as Freddie Letuli and the Flaming Sword of Samoa, introduced fire to the display. (And what a display it is: For most, it is the peak of a luau's entertainment.)
Cultural Displays
To know ancient Polynesian culture—or to at least get a taste of it—requires an acquaintance with the rituals that were conducted, both on the spiritual front and in the quotidian sense. To this end, many luaus boast displays—and instruction—that were a part of everyday life for Polynesians: kapa making, lei making, and games. Some, such as the aforementioned The Feast at Mokapu at Andaz Maui at Wailea Resort, also feature temporary tattoos (or tatau) and/or kupee (a weaving of flowers and greenery to wear as a bracelet or in your hair).
Others, such as Paradise Cove on Oahu, offer guests the chance to not only see but also participate in pulling fishing nets from the beach. And one of the most popular parts of a luau is the imu ceremony, wherein guests can observe how Hawaiians used the underground oven to roast their eats.
Luau Attire and Etiquette
Intrigued by the concept of a luau? One of the most common questions is what to wear. Aloha attire is warmly welcomed, from dress shorts or slacks and aloha shirts for men to casual dresses for women. (More elegant affairs may require posher apparel.) And be sure to wear a comfortable pair of shoes—you, too, may want to get up and dance.
As for etiquette:
Attendees at bygone luaus didn't use utensils and a few luaus maintain this tradition (even Colby's birthday party had her guests eating with their hands). Most, however, will provide utensils. Meanwhile, lei greetings—flower, shell, or kukui nut—are a ubiquitous part of the modern luau. Out of respect, a lei should always be accepted (and should not be taken off in front of the person who gifted it to you). During WWII, leis were tossed into the water to determine one's return; the tradition holds but, to protect wildlife, the string must be removed beforehand. You may also return your lei to Earth—by hanging it on a tree, for example—or use it to fragrance your room, letting the luau you've just seen linger with you even longer. Not like you'll need it, of course: Most are unforgettable.

Ka'anapali
Whether you're looking for a family luau or a more romantic Maui luau, West Maui's Kaʻanapali have some of the best!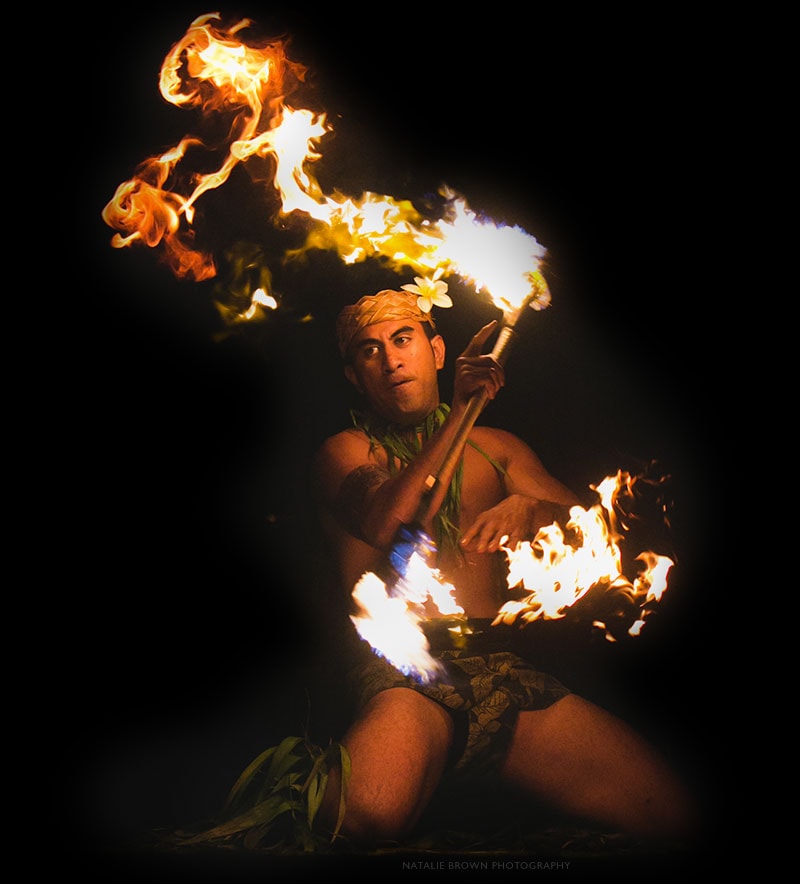 MAUI LUAU COMPARIson CHART
We've been to all the luaus in Maui, and we've put together a list of our favorites along with each characteristic compared side by side to help you choose!
WHAT IS A LUAU?
Exactly what to expect and why you should go!
WHAT TO EAT?
See common dishes served at Maui luaus.
FIRE DANCING
The history and variations of Polynesian fire dancing.